Love. American style!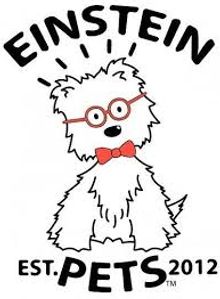 Einstein Pets all-natural organic treats use only pure, delicious and nutritious ingredients that you will recognize immediately from your own grocery list. We are proud that all our products are 100% natural and use only human-grade ingredients like protein-packed peanut butter, sweet potato, and heart-healthy oatmeal. We also add chia seed to every batch for a boost in nutrition and fiber for healthy digestion. The health benefits of chia seed include more calcium (per ounce) than milk, more antioxidants than blueberries, and 8x more Omega-3 Fatty Acids than wild salmon.
Natural Organic Artisan Dog Treats
Dog Treats: Black & Whites, Cha Cha Coconut, Love American Style, Luau Time, PB'N Jelly Time, Pumpkin Time, Sweet Potato, Sweet Potato and Banana Chews, Sweet Potato and Cranberry Chews, Turkey Time
Come visit our pet supply store in Irwin, PA specializing in quality food, treats, and supplies for cats and dogs.